Welcome back to our Trim the Tree Party!!
 I love handmade Christmas ornaments and think that they add such a special touch to the tree and other holiday decor.  This week, I have invited some of my favorite blogging friends to join me in sharing one of their favorite handmade ornaments.  At the end of the week we will have a special giveaway for you that you don't want to miss, so don't forget to check back!  There will be three new ornaments each day, so you should have a beautifully decorated tree by the end of the week! 😉
*****************************
Hello, everyone! I'm Kellie from Nest of Posies. I am so excited to be visiting Jennifer's blog today, and be a part of her Trim the Tree Party!

Over at Nest of Posies I share a variety of things like home decor projects, crafts, recipes and style tips. We have just recently purchased our biggest DIY project, a house that was in foreclosure, and was empty for 4 years. We have been tackling (and blogging) some of our DIY projects and investing most of our time & money naturally into our new house. Which leads me to another point. Most of our available money is going into fixing up the house, so I have been trying to pinch pennies where ever possible. We have a large family room in our new house, and I am hoping we can put a 2nd tree in that room. But with a 2nd tree, comes more need for ornaments, which means you need money to buy new ornaments. Right??? Well, I have challenged myself to decorate it as much as possible with natural elements from our yard or things I can make!
Which brings me to these Glittered Dipped Ornaments and or Garland I have below.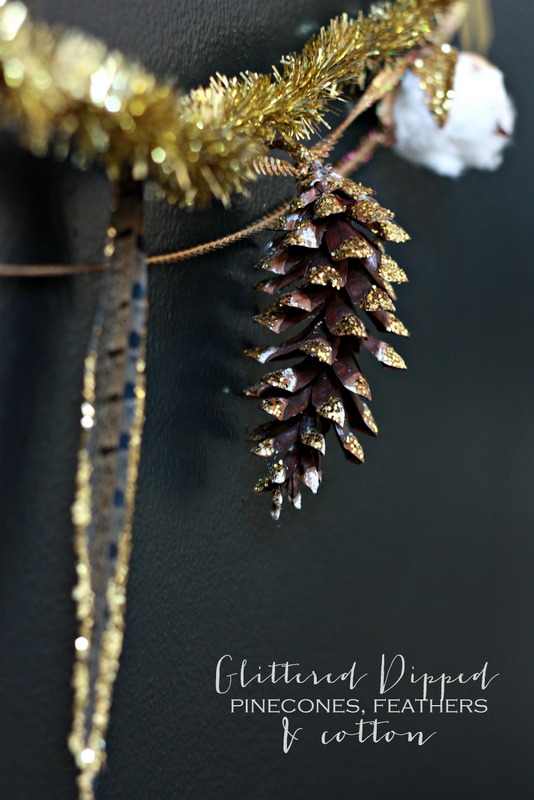 The best part about using elements from your yard, a park or church grounds (shhh. don't tell) is that they're FREE!
However…
Sometimes, I feel like pinecones or feathers can get lost in a Christmas tree. They need a little help getting your attention once in a tree. I love all the natural details, don't get me wrong. But they can blend in. So I just simply add glitter to make the Christmas lights reflect against they're natural beauty and the glitter.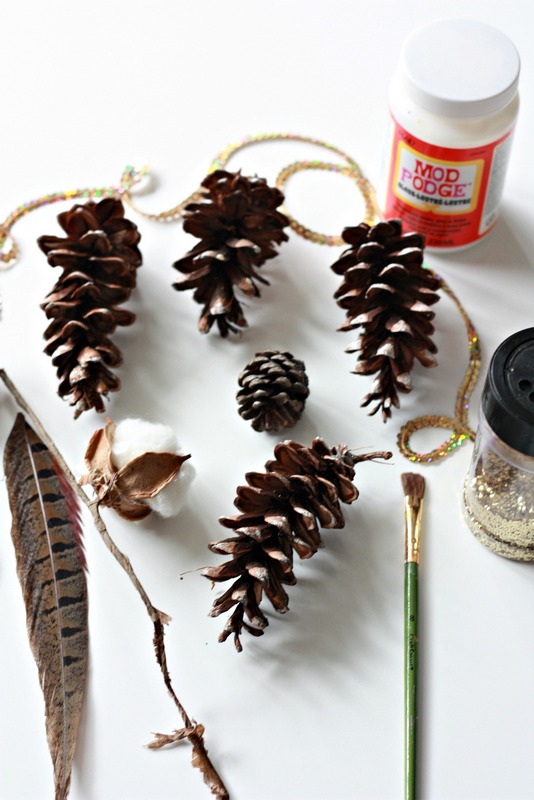 This process is SO simple.
Grab some Mod Podge Glue
A small paint brush
A couple of paper towels
And Glitter!
Just dip your dry paint brush in some Mod Podge Glue and dab some of the edges of the pinecone.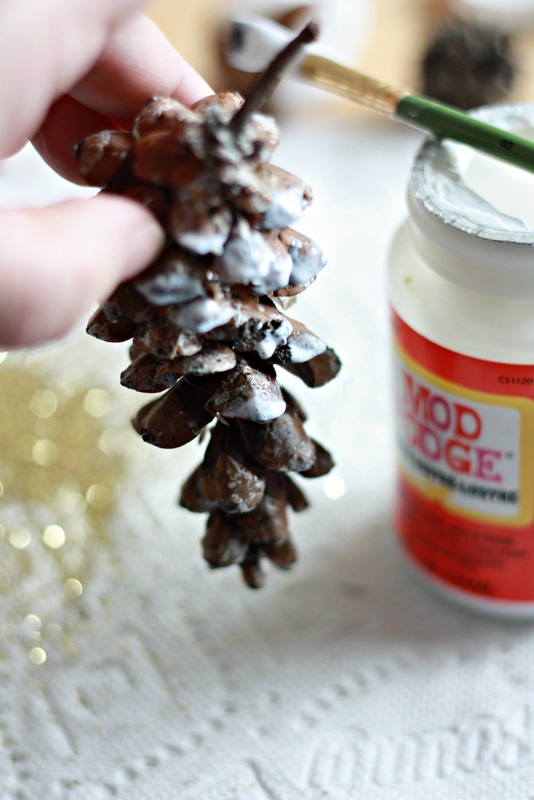 Light sprinkle your glitter over your pinecone. I work on one side of a pinecone at a time. And then I'll turn it and do the other side.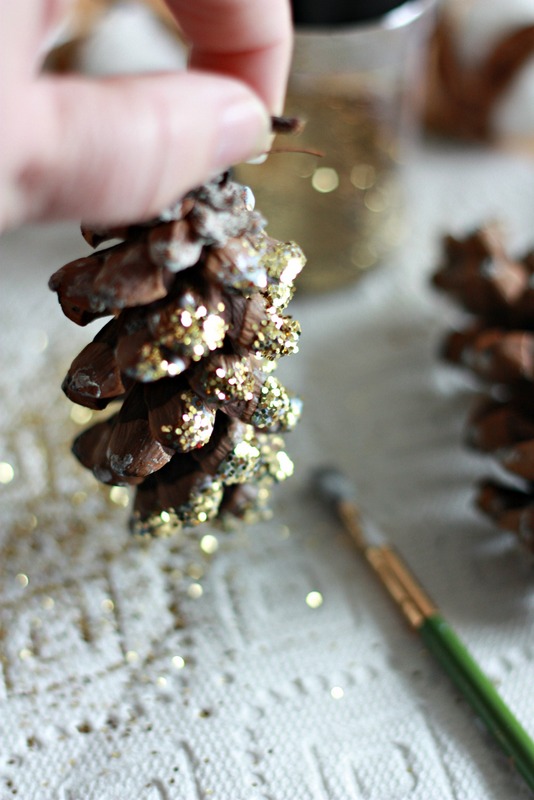 I did the exact process for the cotton I had. I just thought it would be a fun element to add glitter too.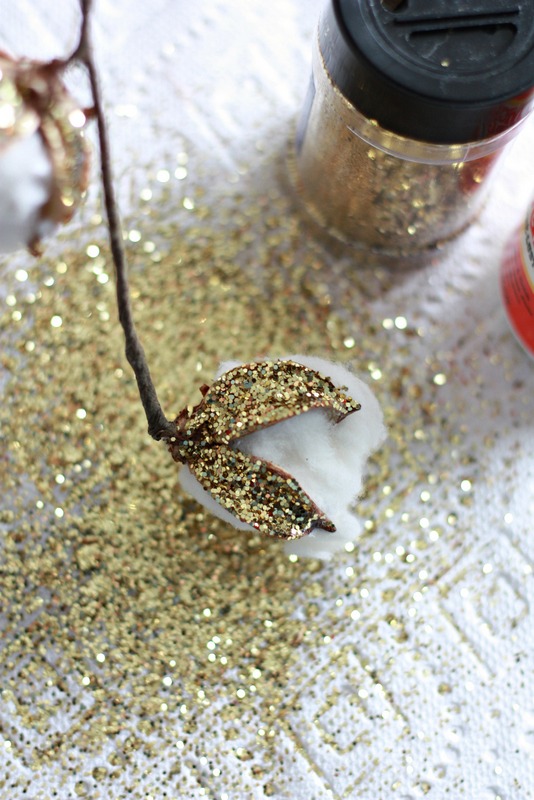 If you were going to use these as ornaments tie a string, twine or ribbon around it and use hot glue to secure it and place it on your tree.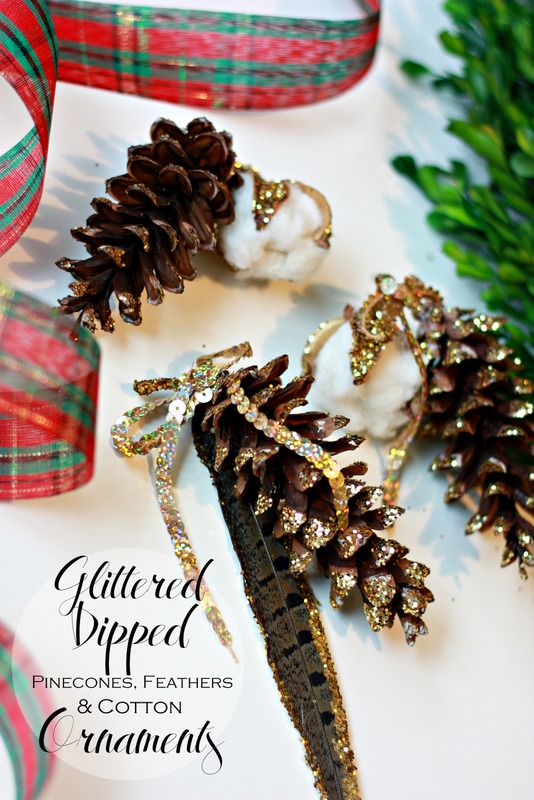 Or if you were going to use it as a garland, which I will probably use both for our tree, just apply drops of glue on your string of strand of ribbon and add your glitter pinecones, feathers & cotton. It's such an easy process and will make a big impact against the lights of your Christmas tree.
Thank you, Jennifer for having me! Wishing you all a very Merry Christmas!
You can find me on Pinterest, Facebook and Instagram ~ if you would like to follow along as we remodel our foreclosure!!!
Click HERE to find more handmade Christmas tree ornaments. 🙂