Welcome back to our Trim the Tree Party!!
 I love handmade Christmas ornaments and think that they add such a special touch to the tree and other holiday decor.  This week, I have invited some of my favorite blogging friends to join me in sharing one of their favorite handmade ornaments.  At the end of the week we will have a special giveaway for you that you don't want to miss, so don't forget to check back!  There will be three new ornaments each day, so you should have a beautifully decorated tree by the end of the week! 😉
*****************************
Hi guys! My name is Autumn, and I blog at It's Always Autumn, where I share sewing tutorials, photo tips for beginners, recipes, and simple crafts. I love making ornaments and decorations for Christmas, but since it's such a busy season my crafting time is a bit limited, so I wanted to share a super quick and easy ornament idea with you today: DIY gift box ornaments.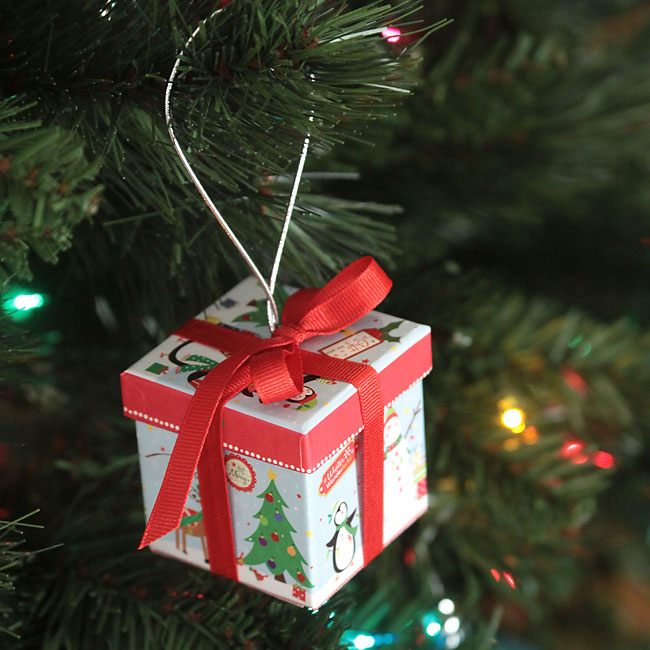 When I was a kid, my mom used to put things like gift certificates or movie tickets in envelopes and stick them in the tree. For some reason it was extra fun to have some gifts IN the tree in addition to those under the tree. When I saw these cute mini gift boxes as the dollar store, I realized they'd make great ornaments that would be a fun way to package up small gifts like jewelry, gift cards, movie tickets, handwritten gift certificates, special Christmas notes, and more.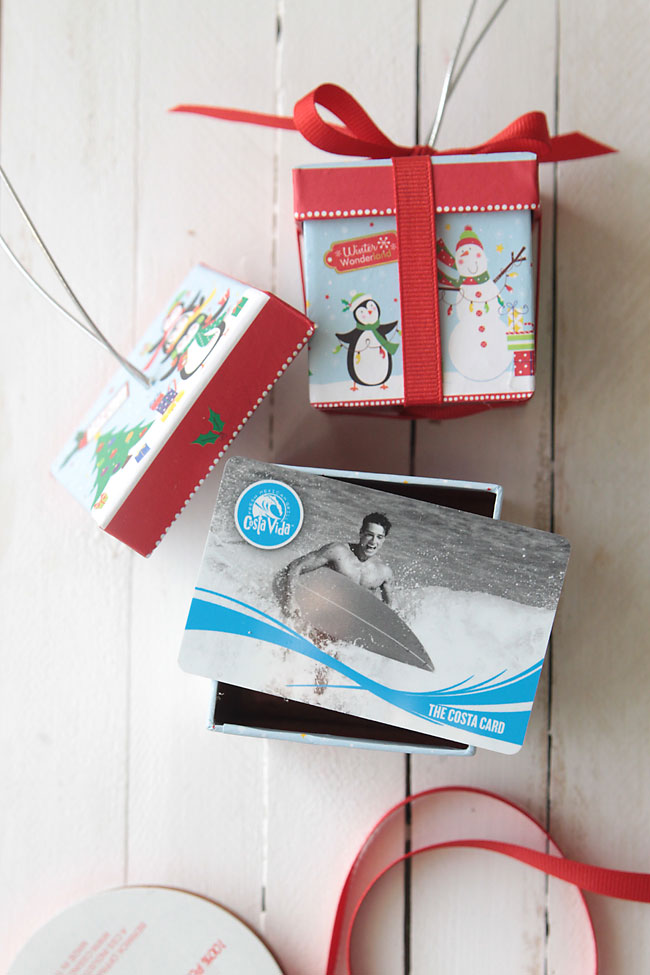 Turning these little boxes into ornaments really couldn't be simpler. At the dollar store in town they came packaged in a set of 2, as you can see below (the larger of the 2 fits a gift card). I picked up some silver cording and used an exacto knife to make a small hole in the middle of each box top. Then I just threaded the cording through and tied a knot at the bottom to turn the gift box into an easy DIY Christmas tree ornament. If you don't have cording, you could easily use ribbon instead.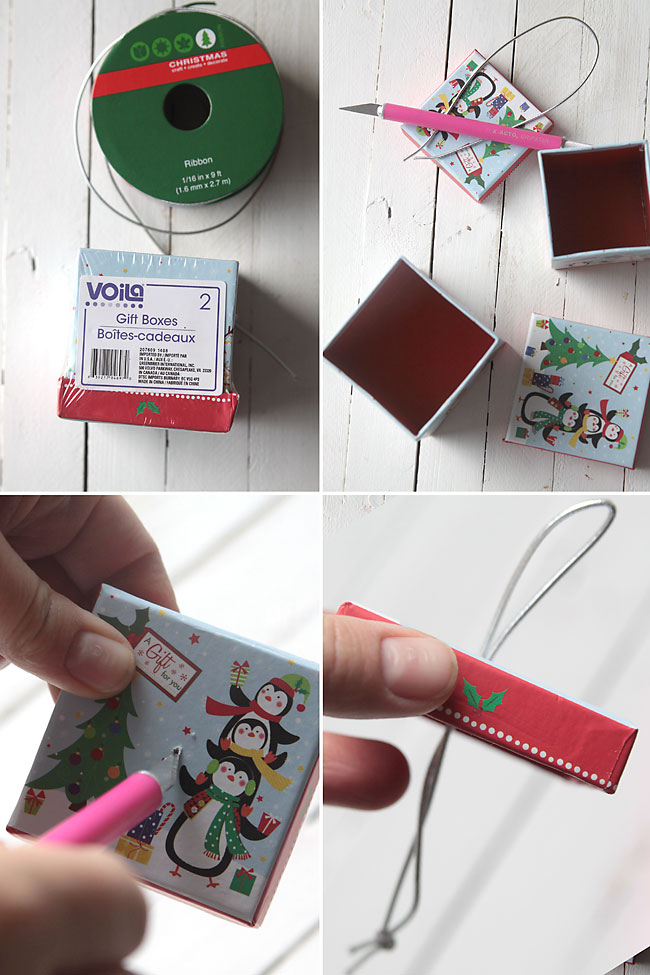 Pack a special little something in each box, then tie them shut with ribbon and hang them on the tree! They're super cute on the tree, and my kids CANNOT WAIT to see what's inside them.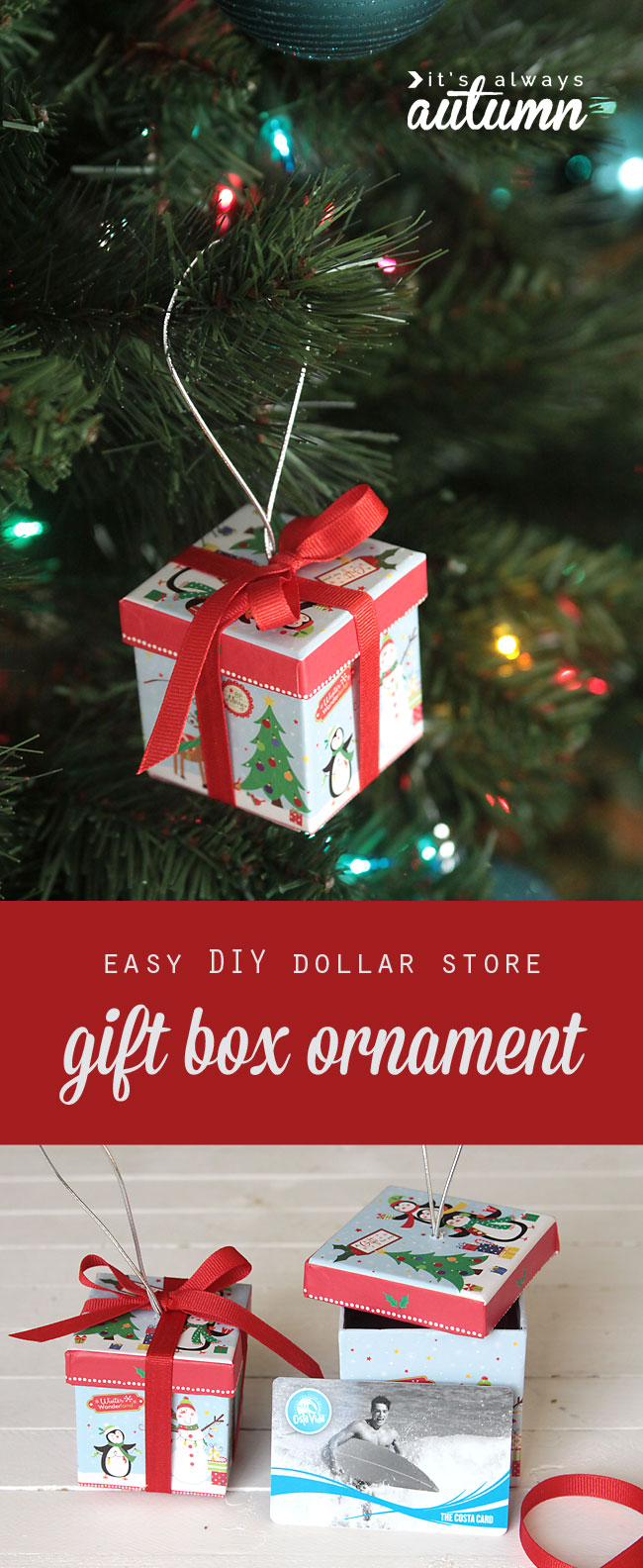 For more Christmas crafts and inspiration, visit me at It's Always Autumn. You can find the best photography tutorials to help you get great photos this Christmas, the easiest (ever!) perfect shortbread recipe, and 35 gorgeous handmade Christmas ornaments. Thanks!
Click HERE to find more handmade Christmas tree ornaments or check out these posts…